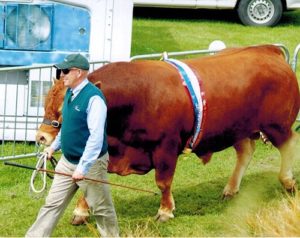 Piwakawaka Kagan, a two-year old sire owned by Gary Kennett and Marilyn Montgomery, has been selected for this year's Dairy Beef Progeny Test. The trial is a joint venture between Massey University and Beef & Lamb NZ Genetics and is run on the Landcorp Wairakei Farm in the North Island.
Kagan is a three-year old son of Mandayen Vision Y329, and out of a ROMN Justice daughter. He combines easy calving qualities with explosive growth and exceptional temperament.
The main objective of the progeny test is to identify bulls that provide value to all parties in the dairy-beef value chain. Bulls proven successfully through the progeny test can then be offered as AB bulls to the dairy industry.
Data will be collected on the submitted bulls for gestation length, birth weight, calving ease, growth to finishing, and carcass traits.
Over 70 bulls across many breeds were nominated with only a handful being selected. AB commenced in October at Wairakei with 70 straws being used from each successful sire. It is believed that this is the first time that the Limousin breed has been involved in this programme.