Polled, Well muscled, Medium Framed, Quiet.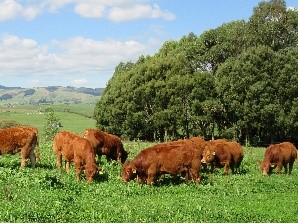 In the beginning we farmed a range of breeds.  Murray did the research and was impressed with the Limousin characteristics: high meat yield, low bone weight per carcase and healthy low levels of fat.  Kivlean Limousins was established in 1997 in the Waikato, near Cambridge.   We have developed our "signature" bovine as a medium framed, quiet, well fleshed, polled Limousin. With the use of selected overseas AI sires and good NZ bulls, our Limousins are mostly polled, and many are homozygous polled.  We only have apricot and red Limousins.
Being a boutique stud our Limousins are monitored on a daily basis.  As well as the Performance Data of each animal, we know their strengths and family background. Our regime is as natural as possible with our cattle being grassfed,  supplemented by our own silage. They are used to being behind a hot wire and we do not have a dog.
We love the breed and have sold progeny throughout NZ and Fiji. Peta is currently Chair of the North Island Limousin Breeders and Treasurer of the NZ Limousin Beef Breeders of NZ.  Kivlean Limousins has supported the North Island Limousin Breeders' Bull Trial both as a vendor and a purchaser.
Call in for a cuppa and enjoy our Limousins.

Murray Kivell
& Peta Lean
994 Victoria Road, RD 7
Hamilton 3287
kivell.lean@xtra.co.nz
07 824 0948
028 258 14890