Obituary
DAVID OWEN SINCLAIR LINTON (1938 – 2018)
LIFE MEMBER OF THE LIMOUSIN BEEF BREEDERS SOCIETY OF NEW ZEALAND INC.
David passed away peacefully in his 80th year on February 14th 2018.  His service was held at the Moroheme Hall on Februrary 22nd 2018 followed by his interment at the Whakapirou Cemetery.  David and Joan worked as a team for 53 years of marriage during which they reared their family of four children; John, Wayne, Tracey and the late Laura.  Together they shared the joy of seeing their family extended to welcome Katherine, Cherie, and Mark and later the arrival of six grandchildren.
While busy with the demands of rearing their children and working on their own property of 730 acres near the Kaipara Harbour the Linton's experienced all the hardships of regular droughts, wet and muddy winters and drying southerly winds in the spring.  David was looking for the beef breed that would increase his profitability while performing above expectations under all conditions.  By trialling other breeds of cattle alongside Limousin commercial cattle David was able to see for himself that the Limousins performed better.  By 1976 David had decided to become seriously involved with Limousin cattle.
David and his wife Joan played a prominent part in the New Zealand Limousin Society.  Together they established their Framoire Limousin Stud in the early 1980's and began holding annual sales soon afterwards.  The foundation sire of the Framoire Stud was Carrigberg Joshua an Irish sire who with a couple of quality females, helped them establish a sound foundation for their herd.  David has used his early breeding programme including dairy breeds and shorthorns to introduce polled females into his herd until by 1988 he had 60 polled females.  The next step was to embark upon an embryo transplant programme which would increase the genetic strength of his Framoire Stud and give him the pure bred animals he wanted.  During the 80's and 90's Framoire Stud produced several males and females that became regular successful entries at several Northland show venues.
Born in 1986 Framoire Blonde, daughter of the sire Fleuri and the dam Blythe Lorelei LP01, made her first successful appearance in the show ring as a heifer calf.  She was to become David and Joan's most well known female not only for her success in the show ring but as a dam of thirteen progeny, two of which were King Blonde and Junior Blonde.  By the late 1980's the Linton family were very involved with Hoof & Hook competitions being placed in several Northland competitions.  David qualified as a Show Judge and Inspector in 1987.  The same year he was also the President of the North Kaipara Show Society and a member of the Council of the New Zealand Limousin Society.
Linton family members all played a part in the farming activities of the home property.  Although David and Joan's children all contributed to the chores of the home farm and sheep and the stud, it was David and Wayne who became skilled exhibitors during show activities.  Amongst those Limousin animals who had successful show careers were Framoire Blonde, Framoire King Blonde, Framoire Dominator, Framoire Junior Blonde, Framoire Utah and Framoire Warrior.
David progressed from being a New Zealand Limousin Society Council Member in 1987 to holding the position of Treasurer of the Council from 1988-1990.  He was elected Vice President from 1991-1993 before becoming President in 1993-1996.  During these years the Limousin Society membership flourished.  The breed became recognised of its meat producing qualities in Hoof and Hook competitions throughout the country with several National competitions being won by Limousin cattle.  There were 211 registered Studs and the total active members connected to these studs numbered over five hundred.  Also, in this period of time a permanent building was erected on the Limousin site at Mystery Creek and Limousin cattle were offered for sale at the National Show and Sale at Palmerston North.  The Royal Show in Hastings saw Limousin breeders from all over the country travel to Hastings, with their best animals to support the show where Jean Luc Kress of Limoges, France was a judge.
The Framoire Stud was promoting itself by exporting eight live weaner heifers to Australia and semen from the home bred sire King Blonde was also exported to Australia.  When the first black Limousins were accepted onto the register Framoire was the first stud in New Zealand to have black Limousin progeny available for sale.
In Australia in 1992-93 history had been made when it was decided by Australia and New Zealand to introduce a combined Trans-Tasman Group Breedplan.  It was the first time in Beef Breeding world-wide that Genetics were compared internationally on the same data base.  The NZ Council of the time hailed this as the most progressive change since the formation of the Limousin Society twenty years earlier.
While David was President Joan and their family gave him their full support.  Joan accompanied him to show and sale events performing any duties asked of her as the President's wife.  In recognition of David's long service to the New Zealand Limousin Society as an active member of its Council over ten years David was made a Life Member in 1997.  David's contribution to the Limousin breed in New Zealand was part of an active upward rise in the popularity and establishment of the breed in New Zealand.  The success of his Framoire Stud will long remain present in the memories of the Limousin Breeders of New Zealand.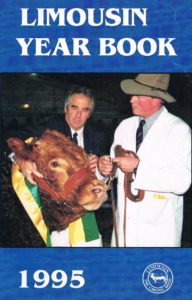 David Linton (President) presenting the Supreme Champion sash of the 1994 Royal National Show at  Palmerston North  – Glencoe Motivator with handler Brent Paterson